4 February 2012
Tuesday, 5 February 2013 • Tuesday, February 05, 2013 •
0tinta
Assalamualaikum .
holla . apa khabar guys . korang sehat ? hope sehat la kayy . thea ? thea tak sehat sangat sebab thea selsema . tapi thea rasa thea buan kena selsema my sis kata maybe kena resdung . sakit ohh . sampai mengelupas hidung thea :( . *tsk tsk . nak buat guane dah nasib . redha je lahh . okay lah stop bebel pasal bende tuhh .
Okay now I wanna tell youu what im doing this whole day . hmm . sekejap jeh dah masuk February kan . ohh mai . nanti March then April . ohh tidak . April ? dah nak naik cuti sem ohh . oh tidak . katilku , tilamku , aircond , masakan mak , Wifi semua tuh bakal tade . arghh . tidak . hmm . redha je lah . demi mencapai cita cita ku sanggup lalui apa saja *amboii . jangan mulut je bilang gitu . pergh jauh thea menyimpang .
Okay la hari ku dimulakan dengan dapat call dari Taufiq . dye call sebab dye bilang saje nak kacau . perghh . saje nak kacau ? thea punya la syok tido dye bole cakap saje nak kacau . adehh . tapi sebenarnya thea tahu dye call nak suruh thea bangun solat subuh . thank youu awak . hee . then thea bersiap . after that perform my Subuh prayer . usai solat dirku terlalu bosan then text Taufiq . ajak dye mesej . dan dan dye bilang mama ajak teman pi pasar . biaq pi lah . mama lagi penting kan . kalau thea pun thea ikut ma pergi pasar . hee . so bila thea dah sumbak bak kata orang pahang , thea on lappy then main game . main game sampai pukul 8 . pukul 8 my mum ajak breakfast . opps lupa bilang . harineh thea kat rumah bertiga je . thea , mum and dad . sbb adik adik semua pi sekolah . wah . macam anak tunggal ohh duk umah . hee . after mandi , siap siap semua , kiteowg pun breakfast kat luar . ingat kan nak breakfast dekat dekat je rupanya nak ajak breakfast kat Parit Jawa . memang awesome ohh Asam pedas dye . kalau tak silap nama kedai tuh Asam Pedas Yahya kott .
Asam Pedas ikan Kembung .
I eat this my self . yumm
Asam Pedas Ikan Siakap
memang awesome . sebab ikan dye still fresh .
lembut lagi . My mum share dengan my dad
timun dengan belacan . umppphh
sayur kobis
my parents yang abehkan
After balik breakfast *breakfast la sangat . da pukul 12 dah . hee kiteowg terus pergi ambil my sis dgn my bro dekat sekolah . bila dyeowg da balik rumah dah mula riuh . hee . tapi even riuh macam mana pun thea tetap happy .
pukul 4 my sis Eija dah balik sekolah . dye ajak pergi Wetex teman dye cari Sprt Shoes . then my dad suruh cuci gambar masa event Pengumuman Bandar Muar sebagai bandar Diraja . so sampai je Wetext terus pergi cuci gambar . then pergi Muara Sukan sebab nak cari Sport Shoes , tapi semua Eija tak berkenan , bila berkenan mahal sangat . then I suggest pergi Bata . tapi dye tak nak . dye ajak pergi Hoover . geram jugak la dengan dye . mengade sangat . then layankan je lah pergi Hoover . sebab thea nak cepat sbb nak tengok cite Setia hujung Nyawa . hee . sampai je kat Hoover . dye start pilih kasut . thea pun amik kesempatan la cari kasut . na beli kasut untuk pi class . yea la . nak naik sem baru kan . so kasut un mestila baru . hee . cari punya cari thea terjumpa kasut yang thea suke masa keluar dengan Mie dekat ECM harituhh . awesome .
cantik kan ? thea suke tengok warna dia .
ada 4 colour . biru , hijau , turqoise dengan merah
thea masukkan gamba nehh kat fb sebab nak tanya Mie mana yang sesuai dengan kaki thea . mie bilang warna merah sesuai . so thea rasa why not thea ikut cakap dia . warna merah pun awesome jugak :)
so thea bilang dengan dia nak beli before naik cuti sem nanti . ta bole beli awal awal sebab nnt takut
nanti nak guna . hee . thea nehh pantang nampak barang baru , semua nak pakai . hee
tuhh je la kott yang thea buat harinehh . apa pun memang best and happy la harinehh :)
jap lupa bilang . btw pukul 8.30 mlm tadi thea sempat jumpa Juma , Wani , Islah , Abg Joe n member member kat Fresco . hee . Kesian Juma . nampak sangat dye tak sihat . semalam dye amik MC . demam .
kesian adik saya sorang tuhh . then balik rumah tak abeh abeh text dengan Taufiq dgn Khairul . oleh kerana Taufiq keluar pergi beli baju kat Bazar Karat thea text dengan Khairul . rindu hh . bukan selalu dapat text dye . hee . kayy la . mata den nehh da kocik bosa kocik bosa yoo . baik den tido dolu heh .
assalamualaikum .
Ahlan Wasahlan
The Mayor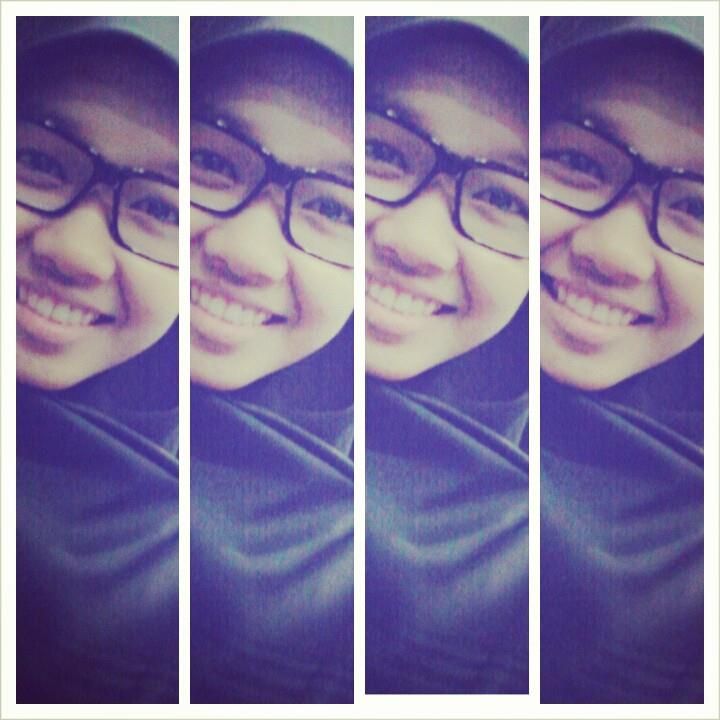 Assalamualaikum , Ahlan wasahlan .Allah tak pandang siapa kita yang dulu. Tapi Allah pandang siapa kita yang sekarang. :')





Celoteh

Tinggal Jejak


مبسم الله الرحمن الرحيم
Please leave your kind words here :)
No rude words / spamming are allowed.


Jantung

I love them much :*